Angel is crossover that belongs to Eva1234dog .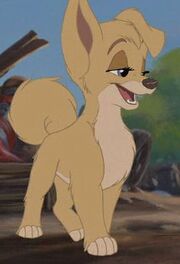 Angel moved with scamp from England to Zootopia after there married , and had kids in Zootopia named , Havan and Edwardo . There kids meet Nick and Judy's kids and became best friends , Angel and Scamp became so close it was almost like family .
Triva . 
Angel was original from Lady and the tramp 2 . 
Angel is one of my favorite Disney characters .