Finnick's Wedding is a story by PrinceBalto.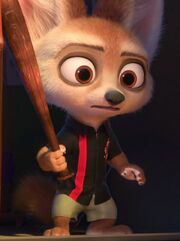 Premise
Finnick is marrying his long-time girlfriend, Honey Honey Badger, and Nick has been asked to be best man, while Judy is the maid of honor.
Story
Nick and Judy walked into the wedding venue, him in his tux, she in her best dress. Today, Nick would be serving as best man at Finnick's wedding to his long-time girlfriend Honey Honey Badger, while Judy had offered to be maid of honor. The very idea made him smile. He chuckled.
"What's so funny?" Judy asked her husband.
Nick looked at her.
"I just never thought I'd see Finnick getting married. He always seemed like the type to not get married," he said.
Judy smiled.
"All right, put that aside," she said as they entered the building.
Before long, Nick was helping Finnick get ready by helping him put on his tiny tuxedo.
"Are you nervous?" Nick asked.
Finnick gave a slight smile to disguise his feelings.
"Every bit as nervous as you were when you married Judy," he said.
Nick nodded.
"Oh boy, I remember that," Nick said.
Before long, Finnick was ready to go.
"You look sharp," Nick said.
Shortly after that, Nick stood with Finnick and the holy man, ready for what was to come. Finnick's heart beat nervously as he tried to keep in control. Then, there came Honey in her wedding dress. Finnick cracked a smile. The honey badger looked beautiful! Finnick was ready. Both sets of their parents were in the front row. The ceremony began. The vows were exchanged. They said "I do". Then, once the holy man declared them husband and wife, Finnick and Honey shared their first kiss as husband and wife. Before long, they were all at the reception. Nick looked at his old friend.
"So, where are you two going on your honeymoon?" he asked.
Finnick and Honey smiled.
"The Palm," Honey said proudly.
Judy's eyes lit up.
"NIce choice," she said.
Nick nodded.
"You'll have a great time," he said.
Finnick kissed his wife's hand.
"I intend to be sure that our honeymoon is the very best," he said.
Honey smiled sweetly. The remainder of the reception was great. Then, at the end of the night, Finnick and Honey left for their several days of bliss.