For the Love of a Bunny Girl is a story by PrinceBalto.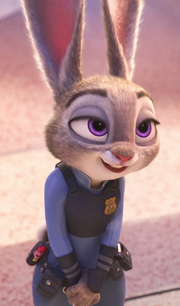 Premise
This retells the events of Bunny Kisses in a short format.
Story
Judy has never had a boyfriend in her life. This will be her first romantic kiss.
Yet, she is not nervous. She is ready. She wants to kiss Nick Wilde, her first boyfriend, the fox with whom she has fallen in love.
It is a quiet evening, not much going on.
She and Nick are watching a movie. Suddenly, the moment is right. They lean closer. An instant later, their lips touch. Judy is kissed romantically for the first time in her life.
NIck is pleased. Very pleased. He has the love of a beautiful bunny girl. The old thing of separation between predator and prey is broken.
In his heart, all is complete.