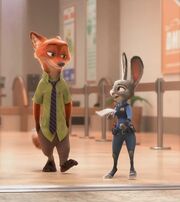 About
Nick took Judy out on a suspire date .
Story
" nick , where are we going " Judy asked .
" you'll see my miss . Wilde " nick smirch .
" well it better be something good because it still really early in the morning " Judy said .
"Now , close your eyes we are almost there " nick said .
" oh and your nose " he added .
Nick held Judy to the side of him so she doesn't run into anything while her eyes were closed , they walked to the out door restaurant where nick set up the table and food for her with a little help from Fenick who works there .
"OK , open your eyes " the foxy smiled .
Judy opened her eyes , she had no words her face turned red , and she started to cry she ran and hugged nick .
crying * thank you my cute fox !!!!! I can't Believe you did all this just for me ! " Judy said in joy .
"And Fenick cooked your favorite food " nick smiled .
"Nick took me your favorites "Fenick said .
" oh nick " ! Judy said .
" well let's eat my smart bunny " nick said .
And that is the surprise date from nick to Judy .