Love and Berry Smoothies is a story by PrinceBalto.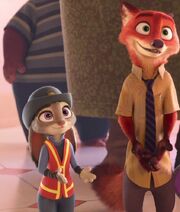 Premise
Nick and Judy have been married for a few days now. Now, in the comfort of their apartment after dinner, they enjoy each other's company and love as they drink homemade berry smoothies.
Trivia
Zootopia Cream Pie is the Zootopia universe's answer to Boston Cream Pie.
Story
It was a peaceful Saturday evening in Zootopia. Nick and Judy had just finished a takeout dinner and went about cleaning up their eating area. Now, it was time for something else they had planned on: homemade berry smoothies. That afternoon, they had gone to the grocery store to buy ingredients: milk, Zootopia Cream Pie yogurt, a healthy sweetener and blackberries. Now, Nick got out two glasses, straws and the blender that Gazelle had given them as a wedding gift. He smiled as he brought out the ingredients.
"This is going to be great!" he said.
Judy nodded.
"It is," she said.
Nick looked his wife in the eyes.
"Yes, the berries will be sweet, but not as sweet as your kisses," he said, a dreamy, romantic look in his eyes.
Judy giggled.
"Oh, you're such a hopeless romantic," she said as she began putting ice into the blender cup.
Nick was next to laugh. He then put the yogurt into the blender, along with the milk. They blended that until it was right. Next, Nick chopped up a banana and put it in, and Judy put in the berries. Then, it was all blended again. What resulted was a wondrous, creamy, sweet purple mixture that they put in their glasses. They then inserted the straws and tasted. It was delicious, with the hint of a small, subtle chocolate flavor provided by the yogurt. The two then sat at the table. Nick was just perfectly happy in that moment.
"So, Cottontail, how has your job been?" he asked.
Judy looked at him.
"Good. I got employee of the month again," she said.
Nick was proud.
"That's my girl," he said.
The two drank their smoothies, enjoying the flavor and each other's company even more. They finished their drinks, then went to the sofa. Nick couldn't be more pleased.
"Ah, my favorite time of the day, with my favorite bunny in the world," he said.
Judy snuggled up to him.
"And I am with my sly fox," she said.
Nick didn't answer. He held his wife near him, until, finally, they kissed a passionate kiss. Judy then looked deep into his eyes.
"I'm most happy when I am with you," she said.
Nick was more than happy. He was in wondrous bliss.