Monsters and Mysteries in Zootopia is a TV show in Zootopia 2.0.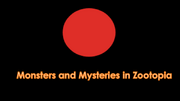 Premise
This show is a documentary airing on Zootopia's Adventure Channel, and one of the most popular networks in Zootopia. It is an hour-long program that features commentary, witness interviews, expert opinions, alleged photographs and videos, reconstructions, recreations of sightings and other features. Each episode several segments on a certain monster or mystery. Partcipating experts include highly regarded scientists from Zootopia University. It is a television program that has many fans, including Soren Oryxhorn (Who as a child growing up in Sahara Square had a sighting of one of the mysteries featured on the show) and others. Even when new episodes are no longer made in the future, the reruns are still popular. The intro consists of a short intro with a voice introducing the monsters and mysteries of the episode with short preview clips, followed by blue-tinted clips and pictures set to eerie music and ending with the show's title and logo before the episode begins. When that happens, the narrator will begin speaking about the first monster or mystery, while the name of the creature or mystery appears on the screen in red letters.
Monsters and mysteries featured
Sahara Square blood orb- A blood-red orb of light that is sometimes seen floating above Sahara Square at night. This is a well-known mystery, and is the logo for the show.
Rainforest ripper- A gargoyle-like, bipedal creature with spines down its back, red eyes, large claws and long fangs seen around the Rainforest district.
Razorclaw- A large reptile with jet-black scales and red eyes seen in the areas surrounding Zootopia.
Tundra terror- A large, white beast sighted around Tundratown.
The Acacia Building- An old abanoned building in downtown Zootopia well-known to be haunted.
Cloud killer- Massive flying beast sighted in the skies above Bunnyburrow. It is a large, bird-like creature.
Ebu Gogo- Bipedal, fanged creature sighted in the Rainforest District.
Trivia
This show is a combination of two real world shows of this nature, Destination America's Monsters and Mysteries in America and the 1999 Animal Planet series Animal X.
This program is very popular, even when the show stops airing new episodes years in the future.
This is Honey Honey Badger's favorite show.