New Life is a story by PrinceBalto.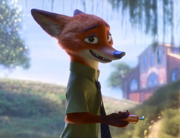 Premise
Nick and Judy, married for a year now, welcome their son into the world. It is one of the most wondrous days of their lives. The lullaby is from The Prince of Egypt.
Story
It was almost time for Judy to deliver her and Nick's child. At the moment, she was confined to bed, for the birth would happen at any moment. Nick smiled at her, eager to be a father.
"I'm at your side, Judy," he said proudly.
Judy nodded.
"I know you will never leave my side, Nick," he said.
Nick kissed Judy on her head. Finally, it was time.  It then began. Nick allowed Judy to clutch his arm tightly.  Finally, it was over, and Nick and Judy looked upon their adorable son, whom they named Noah, after Judy's maternal grandfather. He resembled a male fox, but had the nose and tail of a bunny. He also had one green eye and one purple eye. Judy smiled. For a long moment, she reflected on her life. She had accomplished her goal of becoming a police officer in Zootopia, but, upon becoming engaged to Nick, she left that job for an office job at Wilde Restaurants, Inc, stating that she wished to come home, alive and uninjured, to her husband. Now, she was glad that she had made that choice, as, now, they had a child to raise.
"He is precious," Judy said.
And so, the new family was allowed to rest.
Nick smiled.
"I have a son," he said.
Nick looked deep into Judy' eyes, happier than he had ever been in his life. He was ready to be a father.
"For us, it's a whole new world and a whole new life," he stated.
Judy chuckled.
"Oh, Nick…" she said sweetly.
Certainly, the future was going to be great.  In his mind, Nick declared that he was going to protect his wife and new son. He would never forsake them. Judy kissed his cheek and looked at Noah as he slept. As she did so, a small lullaby came to her. She sang it softly:
Sleep and remember
My lullaby
So I'll be with you
When you dream
It was then that Nick and Judy smiled once more, readying themselves for years of parenthood. However, for now, he was an infant ready to take his first steps into the big wide world. Nick looked at his boy just one more time.
"Yes, just like Judy said, he is precious," he said.
Judy smiled, their son in her arms. She was now complete.