Sasha Lionheart is the daughter of Mayor Lionheart in Zootopia 2.0.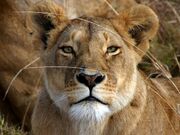 About her
The daughter of former mayor Leodore Lionheart and his wife, a lioness named Alissa, Sasha is a gorgeous 21-year old lioness with tan fur and exceptionally vibrant and beautiful amber-brown eyes who has, since entering the business, become a very famous actress in Zootopia. As she is the daughter of a prince, she is a princess by birth and the niece of King Mufasa and Queen Sarabi. She started acting in commercials as a cub, starring in various toy and food and drink product commercials before breaking into films as she contiued to grow up. She has already been in numerous movies, ranging from romance to action. She is very talented in any role she does, and she is very famous and popular, making large amounts of money with each role she does. She is close to her family and a fan of Gazelle, whom she met in person once. She is romantically involved with 23-year old tiger actor Chris Purrat, whom she eventually marries in the year between Nick and Judy's marriage and the birth of Noah Wilde. Together, they have a tigon (hybrid of a male tiger and a lioness) son, who they name Samson. While she takes Chris' surname when they marry, she continues to use her maiden name as her stage name per her agent for recognition purposes. She uses the surname "Lionheart-Purrat" in her regular life, per royal custom for a princess of Lionheart blood. Her most recent film is Sleeping Lioness, in which she played the lead role. She gets her beauty from her mother. She is a close friend of Nick and Judy as well, knowing them and their son, Noah. She is close to her cousin Simba and his wife Nala, and their future daughter Kiara. She is heartbroken when her father goes to prison, but she knows that he has to pay for what he did. She visits him in prison when she can.
Trivia
She is very popular as an actress.
She is named after the All Dogs go to Heaven character Sasha La Fleur.
While her father is in prison, she visits him when she can.