Angel x scamp lover 12 16:30, October 2, 2016 (UTC)        Scamp is a crossover by Eva1234dog
        Scamp is the husband of
Angel
  and the best friend of nick , and his son Edwardo and daughter Havan are best friends with nick and Judy's kids .Scamp moved from England with his family because he heared    all the neat things about it , and he also loved to listen to gazelle's music .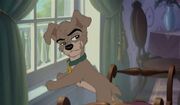 Triva.
He my second crossover 
He originally from Lady and the tramp 2 .