Siya Blackspot is a genet nurse in Zootopia 2.0.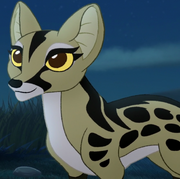 Origins
Siya first originated as an unnamed genet in The Lion Guard episode Beware the Zimwi.
About her
Siya is a female genet who works as a nurse in the clinic of Dr. Madge Honey Badger. She is a sweet-natured and pretty individual who loves her job. She is a friend of Nick, Judy, Finnick and Honey. She decided to go into the nursing field after helping save a friend who was having an asthma attack as a child. Outside her work, she loves spending time with family and friends.
Trivia
She once saved a friend's life.