Snowballs is a short story by PrinceBalto.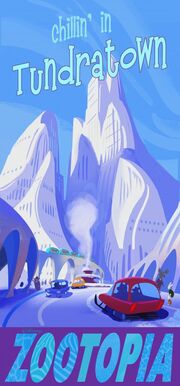 Premise
Nick and Judy have a little fun in Tundratown one day.
Story
It was the weekend and Nick and Judy decided to leave their apartment and explore more of the city, as, though Judy had been to most parts of the city. At the moment, they were in Tundratown. They had already explored
"It's beautiful," she said.
Nick was distracted, however, by the snow around him. He then got an idea.  He scooped up a pawful of snow, formed it into a ball and waited for Judy to turn completely around. When she had done so, he hurled it. It hit the small of Judy's back with a wet slap. The bunny turned to her husband.
"Did you just hit me with a snowball?" she asked.
Nick gave her an innocent expression.
"Why would I do that?" he asked.
Judy gave a flirtatious smile before suddenly pouncing him into the snow.
"Is that so?" she said playfully.
Without warning, she smashed a pawful of snow onto Nick's head. With him distracted by the cold, wet substance, she proceeded to tickle him. Nick laughed aloud. Judy managed to once more pin him.
"My love," she said.
Before Nick could respond, Judy kissed him. Nick returned it, and both were happy, not wanting it to end. However, they did after a moment. Then, they continued their tour, walking paw in paw.
"Nick, I love you, my sly fox," Judy said.
Nick smiled.
"And I love you, Cottontail," he replied.
The two were overjoyed to share their love in this wintry place. Next, they would be exploring the Rainforest District.
"What do you want to do there?" Nick asked.
Judy smiled.
"A boat ride doesn't sound so bad," she said.
Nick was quite proud. The time that he had been married to Judy was the best in his life.
"Thanks for coming into my life, Judy," he told her.
Judy held his hand.
"Same to you," she said.
They would be together until the end of their days.