The Breakup is a story by PrinceBalto.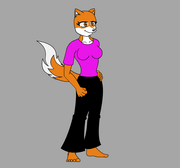 Premise
As all their family and friends know, Judy Hopps is the one true love of Nick Wilde's life. Four years prior to meeting her, however, he was engaged to a vixen named Roxy Redfur. But, as sometimes occurs, he realized that she wasn't the right person for him. What follows is their breakup.
Story
Nick sat there, waiting for his fiancee, Roxy Redfur, to arrive. He had recently come to a realization: Roxy was not the one he wanted to spend the rest of his life with. He cared for her, he had had his first kiss with her, and hoped that she was happy, but he just didn't want to tie the knot with her after his realization. Waiting at the restaurant table, he sighed. Finally, she arrived. She smiled at him, happy that he was to be her husband.
"Hi, Nick," she said cheerfully and excitedly.
Nick nodded and smiled, though he wasn't exactly in the mood for it.
"Hey, Roxy," he replied.
Roxy sat down in the seat opposite his. Both ordered their food and drinks, and, when they were brought, they began to eat. As they finished, Nick knew that he had to do it.
"Roxy, I need to talk to you," he said.
His tone got Roxy's attention.
"What is it, Nick? Is something wrong?" she asked.
Nick sighed sadly.
"Roxy, I can't marry you," he said, his heart pounding hard.
Roxy felt like her heart had just shattered.
"Why? Don't you love me?" she asked.
Nick smiled.
"Roxy, I do care about you, but I just realized that you aren't the animal I want to spend the rest of my life with. When I leave here, I am going to tell everyone that the wedding is off. Now, you're very beautiful, and you're going to make someone very happy someday," he said.
Roxy fought back tears.
"It won't be you," she said.
Nick sighed.
"I am sorry, Roxy," he said.
Roxy had finished eating and drinking by this time, and she was ready to leave. Nick could see the ongoing sadness in her eyes.
"How about last kiss before we move on with our lives, just so you have something to remember me by?" he said.
Roxy nodded. Nick leaned in and the two kissed one last time. It was done. Their engagement was no more. Nick left that day, ready to begin the process of cancelling the wedding. In the future, four years from now, in the midst of a city-wide crisis, he would meet a ZPD officer who would change his life forever, bringing him his forever love.